VIKING'S VOYAGE REAL SERIES VIDEO SLOTS
Looking for a double whammy, then look no further. Vikings Voyage is a game of the past, with payouts for the future.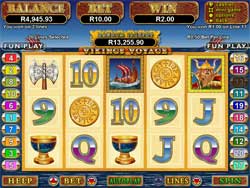 The great Viking himself is the substitute, and what would he be without his Longboat – nothing. The Longboat acts as both a scatter and a spin feature. Vikings do not sail alone, somewhere on the Longboat you will find a shy Maiden, symbols of Kings, Queens, Jacks and all the Nines and Tens you want. With the mystery of the sea, you may even find the random Progressive Jackpot appearing, this Jackpot will appear out of nowhere for no reason other than to add to your coffers. That's not all folks, this games plays and pays from left to right and right to left.
Slot Guide
Reels - 5
Paylines - 20
Bet per payline options - $0.01, $0.02, $0.05, $0.25, $0.50, $1.00, $2.00, $5.00
Highest Pay - $25 000 in main game. Maximum payout of $200 000 is allowed. Because free spins can be retriggered, any result is actually possible but is limited to a maximum of 40 000 times the line bet.
Maximum Jackpot Coins - 5000 Coins in main game. Unlimited coins in the free spins round because free spins can be retriggered. Limited to a maximum payout of 40 000 times the line bet.
Progressive - Yes - Random Progressive
Wild Symbol - Yes - the Viking
Multiplier - Symbol No
Scatter Symbol - Yes - the Longboat
Feature - Yes - Win 10 free games during which a respin feature can also be triggered
Gamble - No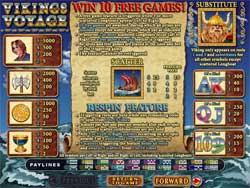 Payline Guide
Longboat Scatter Symbols - 25 times line bet plus it's the feature trigger
Viking Lady Symbols - 5000 times line bet
Axe Symbols - 2000 times line bet
Gold Coin - Symbols 1000 times line bet
Gold Cup - Symbols 500 times line bet
Ace/King - Symbols 300 times line bet
Queen/Jack - Symbols 250 times line bet
Ten/Nine Symbols - 200 times line bet