SUNKEN TREASURE REAL SERIES VIDEO SLOTS
Sailing Ships with chests of Treasure are a thing of the past, or so we thought. Realtime have decided to bring the past back to the future, by developing this exquisitely animated Video Slot, called Sunken Treasure. For those folk that have been fortunate enough in their lives to dive into the depths of our Oceans, you will understand what life beneath the Ocean is all about. But for those who have not been that fortunate, here is your chance to experience first hand, the beauty of not only Diving, but also retrieving that long lost Treasure of yesteryear. Excellent graphics and sound will capture your attention, while the diversity of this game will fill your Treasure chests with rewards.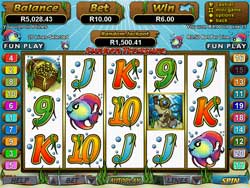 Although wild, your little Scuba Diver will substitute all symbols except the Scatters. Two sunken Ships, scattered will reward you with a multiplier. Three, Four or Five sunken Ships will reward you with the Bonus Feature. How many choices you have in this bonus round, is dependant on how many Ships activated the Feature. You will be presented with sunken Treasure chests, choose the quantity you were rewarded with, and the amount of free games and/or multipliers will be revealed. There are also Treasure chests that hold Blue and Red Jewels, and should you choose the one containing the Blue Jewels you will be rewarded with 10 – 100 times your triggered bet. Choose the Red one and you will be rewarded with 100 -500 times your triggered bet. An accumulating Random Jackpot is also in play, and could pay out at any time during play.
Slot Guide
Reels - 5
Paylines - 20
Bet per payline options - $0.01, $0.02, $0.05, $0.25, $0.50, $1.00, $2.00, $5.00
Highest Pay - $25 000 in main game. Maximum payout of $200 000 is allowed. Because free spins and massive multipliers can be retriggered, any result is actually possible but is limited to a maximum of 40 000 times the line bet.
Maximum Jackpot Coins - 5000 Coins in main game. Unlimited coins in the free spins round because free spins and huge multipliers can be retriggered. Limited to a maximum payout of 40 000 times the line bet.
Progressive - Yes - Random Progressive
Wild Symbol - Yes - the Diver
Multiplier Symbol - No
Scatter Symbol - Yes - the Sunken Ship
Feature - Yes - Select a treasure chest feature with free games and multipliers. You also get a chance to pick Jewels which trigger multipliers of up to 500 times the original line bet
Gamble - No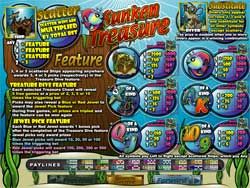 Payline Guide
Treasure Chest Symbols - 5000 times line bet (including a wild symbol which doubles win)
Angel Fish Symbols - 2500 times line bet (including a wild symbol which doubles win)
Starfish/Anchor Symbols - 1000 times line bet (including a wild symbol which doubles win)
Ace/King Symbols - 400 times line bet (including a wild symbol which doubles win)
Queen/Jack Symbols - 300 times line bet (including a wild symbol which doubles win)
Ten/Nine Symbols - 200 times line bet (including a wild symbol which doubles win)