RAINDANCE REAL SERIES VIDEO SLOTS
Catch yourself a Dream and placed it in your Catcher, do not let out of sight. The Rains we believe are coming, the Chiefs out there chanting, with tribesmen gathered all around. Drums have started rolling, listen, you can hear those Coyotes howling, as the Eagles cry from way up high. All this and more packed into Raindance, a unique game brought to you by Realtime Gaming. This Video Slot game offers you not only excellent graphics and sound, but also a Bonus Feature that could be re-triggered with additional spins, and last but not least, there is a Random Jackpot payable at the conclusion of any game, this is triggered at random, and would be added to all other wins.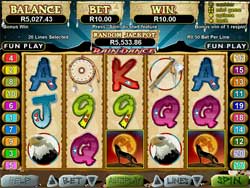 Take that Dream you stored away, and put it into practice by building up your credits with those awesome little Scattered Coyotes. With the appearance of two, your winning payline bet will be multiplied. Three or more activates the Bonus Feature, bearing in mind that the Chief substitutes for all symbols including the Coyote. Free spins are awarded with the activating symbols reels been held and the remaining reels re-spinning. Should you re-activate the feature by 3 – 5 more symbols, and this could occur more than once, you could be rewarded with anything from 10 – 100 additional spins respectively.
Slot Guide
Reels - 5
Paylines - 20
Bet per payline options - $0.01, $0.02, $0.05, $0.25, $0.50, $1.00, $2.00, $5.00
Highest Pay - $25 000 in main game. Maximum payout of $200 000 is allowed. Because free spins can be retriggered, any result is actually possible but is limited to a maximum of 40 000 times the line bet.
Maximum Jackpot Coins - 5000 Coins in main game. Unlimited coins in the free spins round because free spins can be retriggered. Limited to a maximum payout of 40 000 times the line bet
Progressive - Yes - Random Progressive
Wild Symbol - Yes - the Indian Chief
Multiplier Symbol - No
Scatter Symbol - Yes - the Howling Coyote
Feature - Yes - Free games with a respin feature where winning reels are locked. Up to 100 free games can be won.
Gamble - No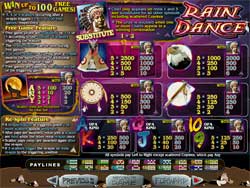 Payline Guide
Teepee Symbols - 5000 times line bet (including a wild symbol which doubles win)
Howling Coyote Scatter Symbols - 200 times line bet (including a wild symbol which doubles win)
Bald Eagle Symbols - 2000 times line bet (including a wild symbol which doubles win)
Dream Catcher Symbols - 1000 times line bet (including a wild symbol which doubles win)
Tomahawk Symbols - 500 times line bet (including a wild symbol which doubles win)
Ace/King Symbols - 500 times line bet (including a wild symbol which doubles win)
Queen/Jack Symbols - 300 times line bet (including a wild symbol which doubles win)
Ten/Nine Symbols - 250 times line bet (including a wild symbol which doubles win)