MISTER MONEY REAL SERIES VIDEO SLOTS
Feeling lucky, you have come to the right place. Mister Money has a great offer up for grabs. In this package you will find a feature that could become a greater feature. A wild Substitute that glitters even brighter when joined by a Scatter of a diffirent colour, Time pieces that never lose time, Red Farrari's that never have to be waxed, Mansions that need no maintenance, Gold Rings and Diamond studded Bracelets that you do not have to insure. What more could you ask for folks, other than perhaps some of this wealth to be passed onto you. So what are you waiting for, log in, download, and let the good times roll.

Mister Money has produced the largest of Diamonds ever seen. Whats more they come in two colours, White and Orange. Alone, the White Diamond acts as the ever present Substitute for all symbols including the Orange Diamond. On its own the Orange Diamond will not do too much unless you are awarded with three or more, however the White Diamonds could stand in, and all of a sudden you will have the feature in progress. The feature brings out 15 money bags for you to choose from, and once you have chosen your lot, they will display how many free games and/or multipliers you have been awarded. If you think this is not enough, you are right, the feature could be re-triggered during the feature and award you with anything up to 25 more free games.
Slot Guide
Reels - 5
Paylines - 20
Bet per payline options - $0.01, $0.02, $0.05, $0.25, $0.50, $1.00, $2.00, $5.00
Highest Pay - $25 000 in main game. Maximum payout of $200 000 is allowed. Because free spins can be retriggered, any result is actually possible but is limited to a maximum of 40 000 times the line bet.
Maximum Jackpot Coins - 5000 Coins in main game. Unlimited coins in the free spins round because free spins can be retriggered. Limited to a maximum payout of 40 000 times the line bet.
Progressive - Yes - Random Progressive
Wild Symbol - Yes - the White Diamond
Multiplier Symbol - No
Scatter Symbol - Yes - the Red Diamond
Feature - Yes - Pick a money bag and get free games or increased free game multiplier
Gamble - No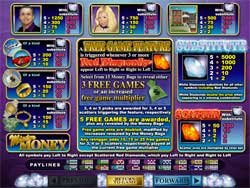 Payline Guide
White Diamond Wild Symbols - 5000 times line bet
Red Diamond Scatter Symbols - 100 times line bet (including a wild symbol which doubles win)
Mister Money Symbols - 2500 times line bet (including a wild symbol which doubles win)
Mrs Money Symbols - 1500 times line bet (including a wild symbol which doubles win)
Mansion Symbols - 1000 times line bet (including a wild symbol which doubles win)
Ferrari/Lear Jet Symbols - 400 times line bet (including a wild symbol which doubles win)
Money Bags/Gold Ring Symbols - 300 times line bet (including a wild symbol which doubles win)
Bracelet/Watch Symbols - 200 times line bet (including a wild symbol which doubles win)